By Alex Flanagan
A little boy sits on the bench during most of his baseball game. He's a skilled player, but he doesn't own his own baseball glove. He shares one with a teammate. The problem is, with only one glove, both kids can't be on the field at the same time. So the young boy can only play defense when the glove he borrows isn't being used and spends most of the game in the dugout watching because he can't afford a baseball glove.
Melissa Harper has seen so many of these stories come across her desk. Kids playing sports without the right equipment or without any equipment at all. There was the basketball team that couldn't play in a tournament, not because they weren't good enough, but because the parents couldn't afford matching uniforms. The team that got a technical foul in a playoff game because one of the kid's numbers, which was taped on the back of his uniform, fell off. Leaving two kids on the court with the same number. A violation of the rules. The talented young tennis player who showed up every day on the court in flip-flops, because she couldn't afford tennis shoes.
These are the stories of some of the millions of kids across the country the non-profit group Good Sports has helped since Harper, the company's CEO, and her five friends founded the organization in 2003. It all began when they were looking for a way to clean some of their sports equipment clutter out of their garages.
"The seed for the idea was everybody had their own sports equipment they didn't need anymore and thought someone must need this," recalls Harper. They started brainstorming and realized sporting goods companies might have the same issue, but with new equipment. Last year's model that was sitting in a warehouse because it didn't sell due to color or trends. "There was a great opportunity to take a regular normal business problem in an industry that produces product and turn it into a benefit for the community. Much the way grocery chains tie to food banks. The same concept, but for sporting goods," says Harper.
Good Sports started with 500 basketballs given to them by Spaulding that they donated to kids and organizations in the Boston area. Since then, they have distributed 18 million dollars' worth of equipment to 3 million kids across the country. Good Sports gets donated and deeply discounted sports equipment from most of the manufacturers around the U.S. including Nike, Under Armour, Reebok, Wilson and New Balance. "It's a lot of stuff that isn't really accessible in high poverty communities because of the price tag specifically associated with it," says Harper.
According to Aspenplayproject.com, sports participation rates among youth living in households with the lowest incomes ($25,000 or less) are about half that of youth from wealthier homes ($100,000) – 16 percent vs. 30 percent. The way we do youth sports in the U.S. is becoming more and more about how much you can pay to play, which is leaving too many children out simply because they don't have enough money. Good Sports doesn't need statistics to know that. There is far more demand for their services than they can keep up with. They now give away over 5,000 basketballs a year, over 4,600 footballs and nearly 800 baseball bats, and that's just the beginning.
A large number of youth sports organizations and schools are operating on shoestring budgets. For most of those programs, 30 to 50 percent of their budgets are spent on equipment. If Good Sports can free up resources by donating equipment, those programs can give more scholarships and get more children involved.
Providing an opportunity for those kids is deeply personal to Harper who credits playing sports when she was growing up for getting her through a chaotic childhood that included moves to five different cities and schools and what she calls her parents' messy divorce. "My parents were there, it's not that they weren't, its just that there was a lot of complexity in their lives and therefore a lot of complexity in my life and so there was a lot of opportunity for me to go astray and I did, often, and the only reason I didn't end up going down that path permanently was because of the coaches that always pulled me back in," she says.
Harper believes sports can still be the same savior for other kids like it was for her, as long as they have access and equipment. "To see kids' faces light up, when you hand them a soccer ball for the first time or a uniform, when they have never had a uniform, they are so proud that they are on a team," she says. "It really makes a difference to how these kids feel about themselves. How they feel about playing their sport, how they feel about people taking care of them. It really has a huge impact."
Just ask the little boy who's now actually playing baseball with his team, instead of watching, because he was one of the 297 kids who got a brand new baseball glove from Good Sports last year.
Good Sports needs resources in terms of donated new equipment and financial donations to match equipment with youth programs. Click here to learn more about donating.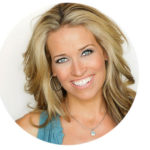 Alex Flanagan co-founded I love to watch you play in 2015. She was flying home from an NFL work assignment when a learning specialist, who was sitting next to her, shared 5 reasons she shouldn't feel guilty missing her son's game. She shared their conversation on her own website alexflanagan.com and the response was so overwhelming it inspired her to create ILTWYP to help parents like herself navigate youth sports.