Back in February while former Georgia wide receiver Malcolm Mitchell was showing NFL scouts and head coaches how fast he could run and how high he could jump at the combine in Indianapolis, I was in my son's 2nd grade classroom reading them Malcolm Mitchell's book, The Magician's Hat.
In my business, athletes make the headlines far too often for the wrong reasons, while the ones who deserve the attention often go unnoticed. So when you hear a narrative like the one I did about 23 year-old Malcolm Mitchell, it makes you want to shine a spotlight on the great things a person can achieve when they acknowledge insecurities and shortcomings, seek to overcome them and are vulnerable enough to share that journey with others.
The story goes like this: Mitchell came into college not reading very well … at about a junior high level, he says. One day, during his freshman year in college, he was at a bookstore with a friend when he bumped into Kathy Rackley. Rackley was scanning the best sellers shelf searching for the next read for her book club. Mitchell and his friend thought she looked like she might know a thing or two about books, so they asked her for a recommendation and struck up a conversation. Intrigued by Rackley's involvement in a book club and secretly yearning to become a better reader, Mitchell asked her on the spot if he could join her group, made up of 40-, 50- and 60-year-old women from Athens, Georgia. And so the star wide receiver started meeting with a group of ladies, all older than his mother, every month to discuss literature.
By the time he was a Junior in college he was so motivated by his experience he decided to write his own book. A book for kids, like himself, who grew up not understanding the value or importance of reading.
The Magician's Hat tells the simple story of children finding books in a library about what they want to be when they grow up. It was published in 2015. And in February of 2016 I got a huge kick out of the fact that a month after I met Mitchell at the Senior Bowl in Mobile, Alabama, I was reading his book to a group of bright-eyed elementary school kids, who LOVED it!
Right now Mitchell is focused on his dream of becoming a professional football player. After posting the fifth fastest 40-yard dash time for wide receivers at the combine and turning heads with an Odell-esque catch during drills, he's projected to be selected in the middle rounds of the NFL draft this April. But, he too, can be found reading his book in classrooms to students. It's all part of the foundation he launched in January of 2016 called "Share the Magic."
His foundation also recently provided it's first matching grant to give books to every child in a Title I  Georgia school where many of the students don't have enough money to buy lunch, let alone books. Malcolm's hope is to get books into some of the 60% of households in America that do not have age-appropriate reading material in their homes and to share, with as many young kids as possible, how reading changed his life.
See more about Malcolm Mitchell's story on CBS Sunday Morning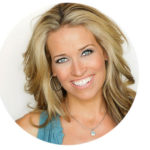 Alex Flanagan co-founded I love to watch you play in 2015. She was flying home from an NFL work assignment when a learning specialist, who was sitting next to her, shared 5 reasons she shouldn't feel guilty missing her son's game. She shared their conversation on her own website alexflanagan.com and the response was so overwhelming it inspired her to create ILTWYP to help parents like herself navigate youth sports.