(By former professional tennis player and current coach Marianne Werdel.  Adapted from Tony Robbins "Awaken the Giant Within")
I enjoy making "Ten Day Challenges" for my students where there is a behavior on court that needs to change, poor eating or study habits or a game style change. Kids like to compete (especially a challenge from an adult). The 10-day length is short enough to keep their attention. Pick a fun reward with them for when they complete the challenge. This is great for them to build awareness of the behavior that needs to change. It's also an avenue to be rewarded for making the changes needed.
10-Day Mental Training For Young Athletes
For the next ten days commit to taking full control of all your emotions by deciding right now that you will not indulge in or dwell on any negative thoughts or emotions on the tennis court or any sport you want to apply it to.
I give my players a glass jar and 10 bouncy balls with happy faces on them. The bouncy ball represents the resiliency needed in an athlete. Zig Zigglar once said, "It isn't how far you fall, but how high you bounce".  Making changes is not easy, and they will fail at times but they need the resiliency to bounce back and try again and again. Athletes fail over and over in order to succeed.  Each day they fulfill the challenge, they put one bouncy ball in the jar.
Rule #1:
In the next ten consecutive days, refuse to dwell on any negative thoughts or feelings. Refuse to use any negative vocabulary or negative body language.
Rule #2:
Catch yourself immediately when you feel yourself being negative -and you certainly will- immediately redirect your focus back to the positive.
7 STEPS TO GOAL PLANNING FOR YOUR YOUNG ATHLETE
Rule #3:
For the next ten consecutive days, make certain that your whole focus in on the solutions and not the problems. What adjustment do I need to make?
HOW TO HELP YOUR CHILD FEEL CONFIDENT
Rule #4
If you catch yourself being negative- don't beat yourself up. It is no problem if you change immediately. If you continue to dwell on negative thoughts or feeling for any measurable length of a practice or match, you must wait unit the following morning and start the 10 days over. The goal is for ten consecutive days without holding negative thoughts.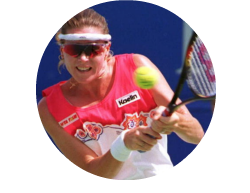 Marianne Werdel is a former professional tennis player.  She first picked up a racquet at the age of 4. Werdel played at Stanford and then for 11-years on the WTA tour where she ranked in the top 50 players for 9-years.  A mother of three boys, she is sharing her wealth of knowledge and passion for tennis through her training, coaching and consulting business Marianne Werdel Tennis Performance